A restaurant by a mystic river.
Yama inspires with a signature sophisticated culinary experience inspired in mind, body and soul nourishment. Bali is on the world's top list of conscious nutrition, and we are all about enjoying the worldly pleasures while staying healthy for a good life function.
Experience eating by the soothing energy of Balian´s sacred river, with rich and colorful foods thought for an optimal function of each of our chakras. Nutrition that helps us live happy, joyful, and to work hard and play hard.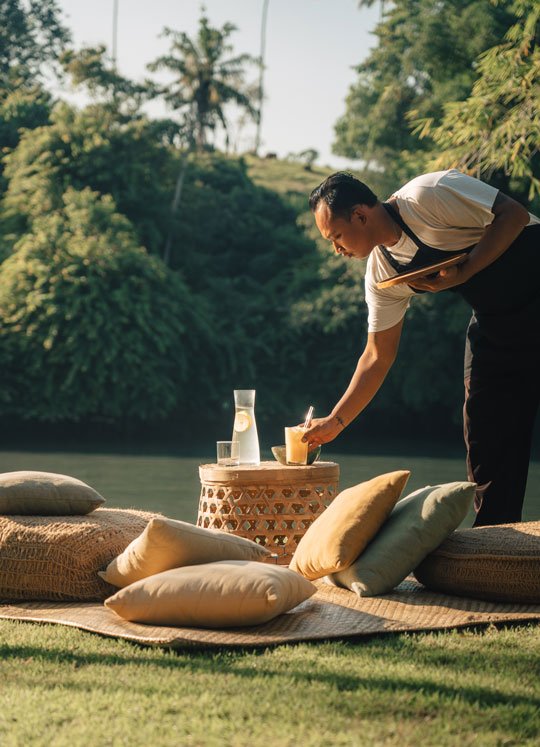 For breakfast you can expect to help yourself with Yoghurt, almond and soja milk, granola, smoothies, fruits, Jammu and other energizing plant-based elixir. Fresh fruits, tasty nuts, herbal teas and fresh coffee throughout the day as well as well as at breakfast. For Lunch our chefs treat you to a varied buffet of culinary delights. To give you an idea of what you can expect we would offer tasty dishes based on grains such as cuscus, quinoa, polenta, fresh salads, falafel, noodles, hummus, vegetal lasagna, and a variety of vegetables dishes. We also love vegetable soups such as Gazpacho, mushrooms, pumpkin, carrot and other seasonable vegetables and obviously finishing with tasty and healthy desserts. Please let us know if you have any special dietary requirements. We can happily look after you here.
Food is a vital part of any Yoga retreat and at Yama Balian we take it very seriously. Experience the real nourishment of a healthy an energizing food. Let us delight you with our daily cooked, balanced delicious meals to support yoga and exercise. Tasty meals with local products, that are both nutritious and wholesome, revitalize the body. Our culinary offer is one of the highlights of Yama experience.